Commissioner State Taxes Meets Traders, Industrial Associations In Baramulla
15 September, 2022, By

Cross Town News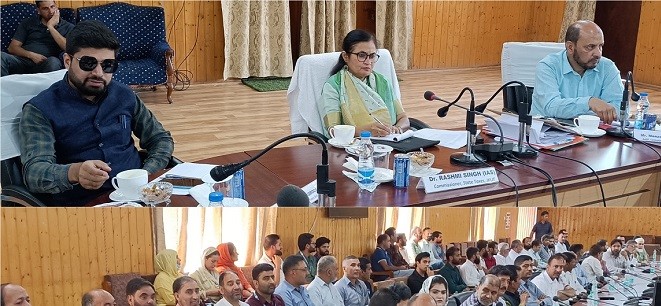 BARAMULLA, SEPTEMBER 15: The Department of State Taxes organized an interactive session for Trade and Industrial Federations of North Kashmir here today.
Commissioner State Taxes, Dr. Rashmi Singh, who chaired the interactive session, elaborated on achievements of GST regime highlighting the increase in revenue collections and compliance. He enjoined upon all bodies to enhance registration of tax payers and ensure compliances under filing of GST returns.
Among others State Taxes Officers, various stakeholders and representatives of trade and industry participated in the meeting.
The session was also attended by Deputy Commissioner, State Taxes Enforcement and Recovery, Shakeel Maqbool, who apprised regarding functioning of CGST set up in Kashmir.
The Trade bodies and Industrialists thanked the department for organizing such sessions whereby they could clarify many operational issues, get all relevant updates and also offer their suggestions for the policy domain in order to facilitate trade further.
On the occasion, the issues and suggestions given by the stakeholders were discussed by the concerned officers. The issues requiring immediate redressal were resolved by the Commissioner and those pertaining to policy matters were taken note of.
Commissioner also stressed upon the stakeholders to come up with specific instances so that the issues can be taken up for quick redressal.
Additional Commissioner, State Taxes Kashmir, Manzoor Ahmad Bhat, presented welcome address while Assistant Commissioner State Taxes (Technical), Waseem Raja, gave a technical presentation on the occasion.
Assistant Commissioner State Taxes Enforcement North, Shanawaz Bukhari, informed that the session has been organized to provide a common platform for government and businessmen to share relevant information.