JJM In Action Mode In J&K: DDC Doda Asks SE To Pursue Pending Admin, Technical Approvals
02 August, 2022, By

Cross Town News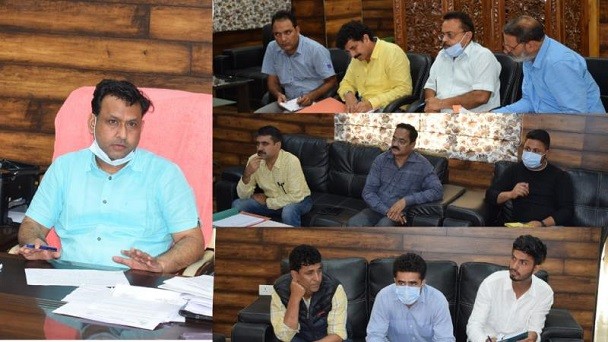 DODA, AUGUST 02: District Development Commissioner Doda, Vikas Sharma on Tuesday reviewed the progress achieved under JJM in the district and overall performance of Jal Shakti department.
The meeting held threadbare discussion regarding each component of the Mission, including tendering and allotment of cleared projects, besides the status of the rest of the proposed projects with regard to Technical and administrative approvals.
The DDC reviewed the physical and financial status of the ongoing JJM schemes and the impediments, if any, affecting the achievement of the set targets.
Giving a detailed presentation, the SE Hydraulics informed that all proposed schemes under his competence have been accorded AA and Technical Sanction, while rest of the projects which fall in the competence of Chief Engineer and above have been submitted for accord of the same.
While reviewing the financial and physical status of ongoing seven schemes in the Gandoh area, the DDC directed the concerned Executive Engineer to complete the schemes by the end of this month.
He was further asked to allot all the six cleared schemes and start the work of the same at the earliest to provide early benefit to the people.
The DDC further asked them to involve the DDC/ BDCs/PRIs and Pani Samitis while starting the schemes in their respective areas and ensure a meeting with all the Pani Samitis within the next few days on priority.
The meeting was attended by SE Hydraulics, CPO Doda, Ex En Jal Shakti Doda, Ex En JSD Gandoh, TOs and AEEs and other concerned officials.