District Administration Becomes Guardian Of Destitute Children In Kathua
17 May, 2022, By

Cross Town News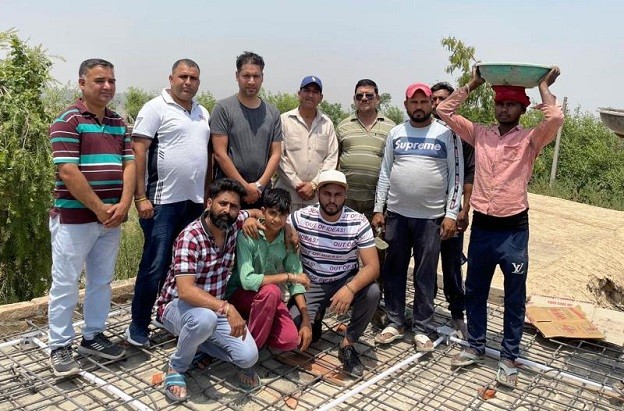 KATHUA, MAY 17: "Nothing stays forever, not even your troubles", this anecdote holds true for the saga of two minor orphans of Kathua district, who have been taken under its guardianship by the District Administration Kathua.
The two unfortunate kids aged 12 year and 9 year lost their parents at very young age and they were living in a ramshackle room in a village of Hiranagar tehsil.
"If that wasn't enough, one of the kids is suffering from a life threatening disease which even calls his survival in question" said an official. They were even ostracised by the community due to the stigma attached with disease.
This incident came to light when some social activists from Jammu brought the matter into the notice of the Social Welfare department Kathua which took cognizance and acted swiftly and reached out to the children in need.
The District Social Welfare Department, which is also the Nodal Agency for District Child Protection, started providing Rs 2000 per month as financial assistance to the hapless children besides providing them free ration on monthly basis.
While sharing the details regarding the challenges faced by the district administration, District Social Welfare Officer Abdul Rahim said that the biggest challenge was to gather funds required for construction of shelter for the needy children who could not be covered under any existing scheme owing to lack of supporting documents and other formalities required to establish eligibilities.
"Keeping this in view, the district administration sought help from corporate and volunteers to come forward for this noble cause. Besides, some contribution was also made from the District Red Cross Fund to meet the funds required" he informed.
"Though the matter may appear trivial but demands a more humane and sympathetic approach towards young kids who were not only socially boycotted but even their survival was at stake.
This has resulted in mental agony and depressive tendencies among the kids" the SWO said. He said the incident not only moved the district administration but have received tremendous response from people of all walks of life including corporate, businessman, volunteers, social activists etc which in turn has made this possible this dream of having roof over head besides making both ends meet.
Moreover, a good corpus of funds have been accumulated which will cater to the future needs of these children and support them in their endeavours.
The joint efforts of administration as well as civil society has once again proved that any problem can be tackled by active participation and role playing of all to ease the lives of persons in need.
This also underscores the importance of the fact that "if you focus on what is within your power to change for the better, you can".