Div Com Directs JDA And Tehsildar To Take Action Against The Illegal Encroachments
22 July, 2021, By

Cross Town News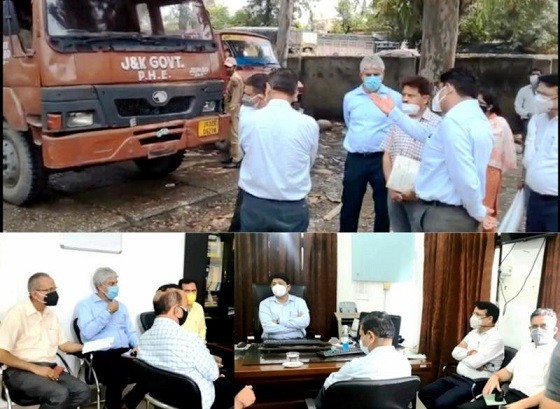 JAMMU, JULY 22: Divisional Commissioner Jammu, Dr Raghav Langer today conducted a tour of Transport Nagar, Narwal and took stock of up-gradation works needed for development of this ever-busy business hub.
He was accompanied by Vice Chairman JDA, Rohit Khajuria; RTO Jammu, Dhananter Singh; besides ADC Jammu, Engineers of Jal Shakti, PWD, UEED concerned Tehsildar and other concerned officers.
During his visit, the Div Com took a round of Transport Nagar and observed that the road and drainage system is in a very bad condition which needs urgent repairs.
It was informed that on the directions of office of the Hon'ble Lieutenant Governor an amount of Rupees 22 Crore has been projected under the capex budget of Jammu Metropolitan Region Development Authority (JMRDA) for the up-gradation of infrastructure in Transport Nagar through Jammu Development Authority.
PWD was directed to project the balance requirement of funds under its departmental budget.
The Div Com instructed the concerned officers to prepare a detailed estimate of the works for road, drainage system, utility shifting if any, on priority.
The Div Com took strong note of the poor drainage system in the area and directed the concerned officers to review the drainage system of the transport Nagar, study the network and take appropriate corrective steps on priority. Engineering wing of JDA, PWD apprised the Div Com that the total length of internal roads of Transport Nagar is around 60 Km (single lane) and Rigid Pavement is required to resolve the issues in the area.
The Executive Engineer Jal Shakti was directed to find out the damages to water supply pipe lines and take appropriate steps for their replacement.
The Div Com also directed Jal Shakti to review the water supply scheme of the area and apprise the concerned departments so that appropriate actions can be initiated timely during execution of works.
Meanwhile, the Div Com also interacted with the local traders and listened to their issues in the RTO office.
The Traders raised several demands and apprised the Div Com that the dilapidated condition of roads and drainage system in the area is creating problems for them.
They demanded better roads, drainage system, street lights, regular sanitation etc.
Responding to issues related to sanitation of the area the Div Com took up the matter with Commissioner JMC and asked to depute sanitation teams in transport Nagar for regular sanitation of the area and also asked her to study the costing size for regular sanitation of the area as the traders are ready to pay user charges.
JDA was instructed to hold a joint meeting with JMC and Traders Association to resolve the issue so that regular sanitation of the area would be ensured.
The Div Com also asked the JDA and Tehsildar concerned to take action against the illegal encroachments in the Transport Nagar.