Vibodh Calls Upon BJP Offices In J&K To Use Technology To Increase Efficiency
22 July, 2021, By

Cross Town News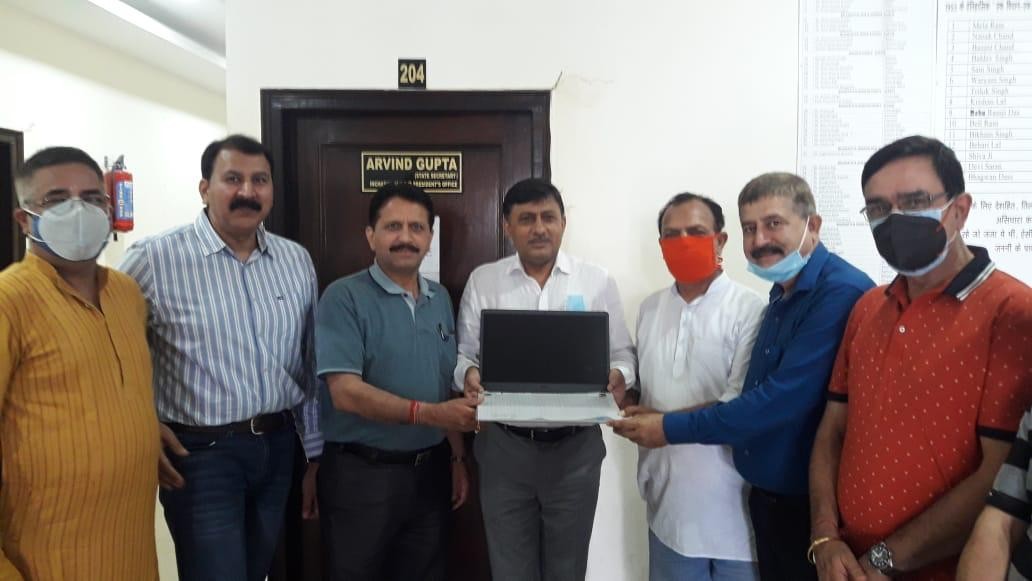 Jammu, July 22: BJP State General Secretary and former MLC Vibodh Gupta accompanied by BJP leadersArvind Gupta Ajay Bharti Prabhat Singh Tilak Gupta today presented a Laptop and a Digital Printer to the representatives of BJP Kashmir Displaced District. These equipment were handed over at the BJP party headquarter at Trikuta Nagar at Jammu. The programme was also attended by Chand Ji Bhat, District President of BJP Kashmir Displaced district and former MLC Ajay Bharti.
Speaking on the occasion, Vibodh said that the present era is an era of technology and all the BJP offices in J&K must use technology to reach out to common masses in a responsible, efficient and productive manner. This he said besides increasing the efficiency will also act as a strong tool for good governance. He informed that making technology accessible to all is an important initiative of the BJP and is in line with the vision and mission of PM Modi. He further added that today BJP workers because of their hard work and dedication are ideally positioned to leap ahead in the present era of growth and development through smart and transparent use of technology.
While referring to BJP offices in Jammu & Kashmir as the drivers of growth and development, Vibodh said that it is important that all our offices become smart offices through use of the best technical equipment. He also highlighted the fact that technology has a great innovation opportunity in bringing people together. This will ultimately lead to much more coordinated efforts by BJP leaders and workers in different remote corners of JKUT, Vibodh added.
In his address All JKUT BJP offices modernization incharge, Arwind Gupta said that today Digital India has become a way of life, particularly for the poor, marginalised and for those in the Government. He also thanked PM Modi for this as because of this, our country has witnessed a more human-centric approach to development. Later Chand Ji Bhat thanked BJP party leaders for providing digital equipment to the BJP Kashmir Displaced District. He assured everyone that these equipment will be used efficiently for promotion of various welfare schemes of the central Government and for strengthening the party at grassroot level. Prominent among others who spoke on the occasion included Prabhat Singh, Treasurer and Tilak Gupta, office secretary.