Dimple Leads Protest Against Lack Of Medical Facilities, Demands One Month Lockdown In Jammu
16 April, 2021, By

Cross Town News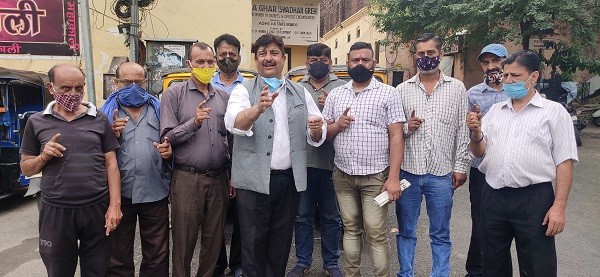 Jammu, April 16: Sunil Dimple president mission statehood registered strong protest, along with Prominent Citizens, traders, Transporters at heart of the Jammu city Kachichawni against the huge surge in pandemic cases in Jammu region.
Protest was also against the worst management in GMC, supper specialist and other hospitals. Non availability of the medical facilities in GMC, super specialist hospital, shortage of Equipment, Echo machines non functional in GMC and non serious attitude of the administration, JMC Jammu.
Addressing the protesters Sunil Dimple said there is huge surge in pandemic cases in jammu region and our GMC, super speciality and other hospitals are at comma ventilators.
Dimple alleged in the GMC & super speciality hospital bakshi nagar there are no proper medical facilities, shortage of equipment, Echo machines non working/nonfunctional in GMC.
Patients have to get tested from outside at higher rates.
He said oxygen plants sanctioned for the GMC, super specialist hospitals and other hospitals but not installed in GMC and other hospitals even after approval.
He alleged and non serious attitude of the administration, JMC Jammu is worsening the situation. No efforts by JMC at the time when Red Zones areas declared in Jammu.
He appealed and urged upon the LG Manoj Sinaha that there is shortage of Doctors, inadequate arrangements of the Jammu administration to meet the challenges of huge Surge of COVID Positive cases.
Dimple alleged the Gastro department is lying closed for the last so many years, no gastro surgeries are being done.
He asked the Govt that where are santizers, fogging disinfectant spray machines of Jammu JMC.
Dimple said we are demanding for one month complete lock down as this pandemic has become community spread this time and fast spreading.
He said the night curfew is meaningless and should be from 3 PM onwards to break the chain.